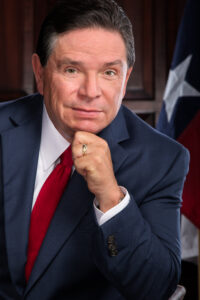 Rick has been practicing law since 1987 when he received his law degree from the University of Texas. He has a Bachelor of Arts degree in Government and a Masters degree in Public Administration from Angelo State University.
When Rick graduated from law school, he worked in Austin for the Texas Attorney General's Tort Litigation Division for 3 years representing the State of Texas in personal injury and civil litigation cases. Rick then returned to San Angelo and worked as an Assistant City Attorney being assigned as the Municipal Court Prosecutor for 3 years and was then promoted to Senior Trial Attorney for the next 3 years. He then spent the next 10 years in private practice handling personal injury, criminal and family cases with Ratliff, Edwards & DeHoyos. The next three years he joined the law firm of Glasheen, Valles & DeHoyos, one of the top Texas law firms that focuses on in personal injury and wrongful death cases. He acquired invaluable experience in handling serious personal injury cases.
Rick is Board Certified in Personal Injury Trial Law by the Texas Board of Legal Specialization and is licensed to practice by the Supreme Court of Texas and the United States District Court for the Northern District of Texas and the United States Court of Appeals for the Fifth Circuit. Rick focuses us in personal injury cases.
Bilingual
English/Spanish
Education
1977 Ozona High School
1981 Angelo State University ; Bachelors of Art (Major ; Govt. Minor; English)
1984 Angelo State University; Masters of Public Administration
1987 University of Texas at Austin; Doctors of Jursiprudence
Employment
(2007 — 2010) Glasheen, Valles, Inderman and DeHoyos (Personal Injury Law firm)
(1997 — 2007) Ratliff, Edwards & DeHoyos ( Partner in General Practice law firm)
(1991 — 1996) City of San Angelo—- Senior Trial Attorney Litigation Department
(1988 — 1991) Assistant Texas Attorney General's Tort Litigation Division
Admitted to practice in:
1991 Northern District Court
1996 United States Fifth Circuit Court of Appeals
2003 Board Certified Personal Injury Law
Member:
State Bar Grievance Committee
2003-2004 President of Tom Green Bar Association
Texas Trial Lawyers Association
American Trial Lawyers Association
Personal
Married — Johanna DeHoyos, Children – Nicole LaDawn Primera, Eric DeHoyos, Krystle Dawn DeHoyos